Overview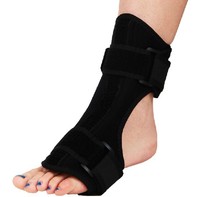 Achilles tendon injuries are one of the most common overuse injuries in recreational sports. A very small percentage of these injuries are diagnosed and treated by doctors of chiropractic. What is especially interesting is that a high percentage of these injuries are caused by a posterior calcaneus subluxation.
Causes
The Achilles tendon is a strong band of connective tissue that attaches the calf muscle to the heel bone. When the muscle contracts, the tendon transmits the power of this contraction to the heel, producing movement. The Achilles tendon moves through a protective sheath and is made up of thousands of tiny fibres. It is thought that Achilles tendonitis develops when overuse of the tendon causes the tiny fibres that make up the tendon to tear. This causes inflammation, pain and swelling. As the tendon swells it can begin to rub against the sheath surrounding it, irritating the sheath and causing it too to become inflamed and swollen. It has a poor blood supply, which can make it susceptible to injury and can make recovery from injury slow. Factors that can lead to the development of Achilles tendonitis include, tight or weak calf muscles, rapidly increasing the amount or intensity of exercise. Hill climbing or stair climbing exercises. Changes in footwear, particularly changing from wearing high-heeled shoes to wearing flat shoes. Wearing inadequate or inappropriate shoes for the sporting activity being undertaken. Not adequately warming up and stretching prior to exercise. A sudden sharp movement that causes the calf muscles to contract and the stress on the Achilles tendon to be increased. This can cause the tendon fibres to tear.
Symptoms
Common symptoms of Achilles tendinitis include, pain and stiffness along the Achilles tendon in the morning, pain along the tendon or back of the heel that worsens with activity, Severe pain the day after exercising, thickening of the tendon, bone spur (insertional tendinitis) swelling that is present all the time and gets worse throughout the day with activity, If you have experienced a sudden "pop" in the back of your calf or heel, you may have ruptured (torn) your Achilles tendon. See your doctor immediately if you think you may have torn your tendon.
Diagnosis
Physicians usually pinch your Achilles tendon with their fingers to test for swelling and pain. If the tendon itself is inflamed, your physician may be able to feel warmth and swelling around the tissue, or, in chronic cases, lumps of scar tissue. You will probably be asked to walk around the exam room so your physician can examine your stride. To check for complete rupture of the tendon, your physician may perform the Thompson test. Your physician squeezes your calf; if your Achilles is not torn, the foot will point downward. If your Achilles is torn, the foot will remain in the same position. Should your physician require a closer look, these imaging tests may be performed. X-rays taken from different angles may be used to rule out other problems, such as ankle fractures. MRI (magnetic resonance imaging) uses magnetic waves to create pictures of your ankle that let physicians more clearly look at the tendons surrounding your ankle joint.
Nonsurgical Treatment
Treatment for Achilles tendonitis, depends on the severity of the injury. If heel pain, tenderness, swelling, or discomfort in the back of the lower leg occurs, physical activity that produces the symptoms should be discontinued. If the problem returns or persists, a medical professional should be consulted. If pain develops even with proper stretching and training techniques, the patient should consult a podiatrist to check for hyperpronation and adequate arch support. The addition of an orthotic may be enough to maintain good arch and foot alignment and eliminate pain. If damage to the tendon is minor, the injury may respond to a simple course of treatment known as RICE (rest, ice, compression, elevation). Patients are advised to rest the tendon by keeping off their feet as much as possible, apply ice packs for 20 minutes at a time every hour for a day or two to reduce swelling, compress the ankle and foot with a firmly (not tightly) wrapped elastic bandage and elevate the foot whenever possible to minimize swelling. A nonsteroidal anti-inflammatory drug (NSAID) such as ibuprofen may be used to reduce pain, swelling, and inflammation.
Surgical Treatment
Not every Achilles tendon injury or condition requires surgery. It is generally understood by doctors and surgeons, that surgery will introduce more scar tissue into the Achilles tendon. This added scar tissue will be problematic, requiring physical therapy and conservative treatment options post-surgery. If not dealt with properly, your ankle and Achilles tendon could end up in worse condition than before the surgery! This is why surgery is only performed as a last resort.
Prevention
So what are some of the things you can do to help prevent Achilles Tendinitis? Warm Up properly: A good warm up is essential in getting the body ready for any activity. A well structured warm up will prepare your heart, lungs, muscles, joints and your mind for strenuous activity. Balancing Exercises, Any activity that challenges your ability to balance, and keep your balance, will help what's called proprioception, your body's ability to know where its limbs are at any given time. Plyometric Training, Plyometric drills include jumping, skipping, bounding, and hopping type activities. These explosive types of exercises help to condition and prepare the muscles, tendons and ligaments in the lower leg and ankle joint. Footwear, Be aware of the importance of good footwear. A good pair of shoes will help to keep your ankles stable, provide adequate cushioning, and support your foot and lower leg during the running or walking motion. Cool Down properly, Just as important as warming up, a proper cool down will not only help speed recovery, but gives your body time to make the transition from exercise to rest. Rest, as most cases of Achilles tendinitis are caused by overuse, rest is probably the single biggest factor in preventing Achilles injury. Avoid over training, get plenty of rest; and prevent Achilles tendinitis.